JOLO TO-GO
Schedule the date and time to pick up your
wine at JOLO with our app!
This is not for Pick-Up-Parties, this is a scheduling APP for online orders or club runs that members/guests would like to pick up on a specific date or time when they are stopping by the winery.
JOLO is constantly striving to provide a unique member experience. We have noticed over the past few quarterly wine club quarterly runs, that about 50% of our membership picks up their wine at a time other than a pickup party (why?? come to a pickup party!!) or having it shipped. What we also notice is that when you come to JOLO to pick up your quarterly club order or an order that you placed online on our shop, you have to wade through all of the guests, to get to the hostess stand or a server and notify them of your order that you would like to pick-up. Some of you have multiple quarters that need to be picked up at that time. That experience could take us 15-30 minutes to fulfill, especially if we are booked solid for tastings or lunch/dinner.
We have found a solution! The JOLO TO-Go App! As a JOLO management team, we have come together to find a way to make the process of picking up online wine and quarterly wine club orders as seamless as possible. This new stress-free technology allows you to schedule the date and time to pick up your wine at JOLO.
We are in the process of re-designing a specific pick-up location on the property and we will provide instructions for that as soon as it is ready! For now, after you have used our JOLO TO-GO Scheduling App to schedule your pick-up, you can approach our hostess stand and we will have your pick-up request ready on the requested pick-up day! Glory be to JOLO!
STEP BY STEP FOR THIS PROCESS:
Visit our JOLO-TOGO Webpage.
Enter your name, date of desired pick up, and time
You will then be prompted to enter your email to receive a confirmation (please add your email affiliated with your wine club account)
Your wine will be packaged and ready for your arrival at the host stand on the desired day and time!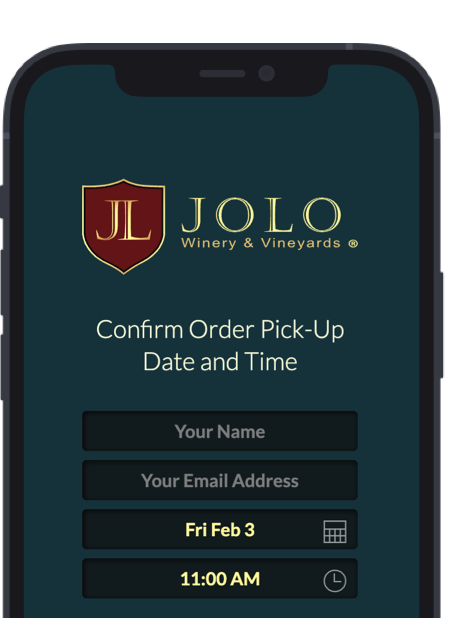 Schedule your pick-up now!
Schedule your day and time to pick your wine up at
JOLO to prevent waiting at the tasting lodge.